Current Exhibition – 開催中の展覧会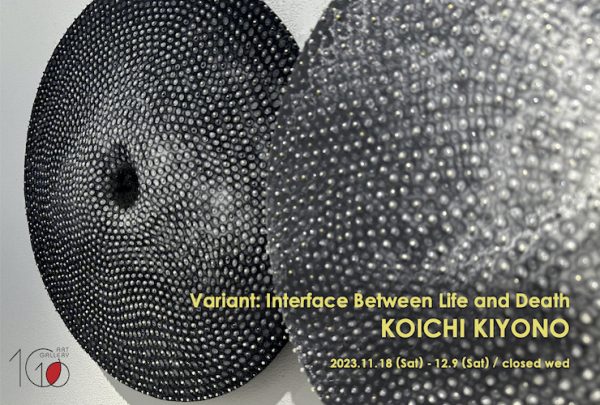 美術家、清野耕一は平面の版画作品のみならず、版画技法をベースにそれを応用した立体作品やインスタレーション作品を展開する先駆者の一人です。
「生命の探求」が清野の30年に及ぶ作品表現の基本テーマであり、「生命サイクル:誕生-成長-死-再生」のダイナミズムを表現してきました。
2010年より国内外の美術館等で発表してきた「Cultivation (培養体)」シリーズは、大小様々なディスク状の作品群を床や壁に展示し、シャーレ(実験用培養皿)の中で培養された「ミクロ小宇宙」から、「マクロ大宇宙」へ展開させた壮大なインスタレーション作品です。
新作「Variant: Interface Between Life and Death(変異体:生と死の界面)」は、生命進化の過程で発生する「突然変異と多様性」に着目して、新たな表現を試みています。
技術面では「培養体」シリーズを基礎としながら、従来のキルト芯に木版や銅版でプリントしたディスク状表面から、如何にしてイメージと質感を変容させるかを主眼に置いています。そのため、ビーディング(ガラスビーズを針で一刺し一刺し布地に縫い込む作業)とオーガンジーの布地を採用して、荘厳で華やかな質感や透明感、宝石のような光り輝く重厚感、鼓動する繊細なリズム、等を特別に与える独自の表現を模索しています。
今回の作品テーマは、世界的なコロナ禍、ロシアのウクライナ侵攻、地球温暖化や環境破壊などの問題が作品表現に強く影響しています。一方で、作家にとって最愛の母親が長い自宅介護生活の末今年5月に他界し、想像以上の深い悲しみと喪失感に襲われた経験が、逆に新作を創造する強い原動力となったのです。
死者を弔い鎮魂の祈りを込めた荘厳で静かな世界、清野耕一の新シリーズ「変異体:生と死の界面」をご高覧頂ければ幸いです。
2023年11月
倉科敬子 1010美術
Koichi Kiyono is one of the pioneers in developing not only flat prints, but also three-dimensional works and installations based on printmaking techniques and applying them.
Search for life has been the basic theme of Kiyono's work over the past 30 years, expressing the dynamism of the 'life cycle: birth – growth – death – rebirth'.
The 'Cultivation' series exhibited at museums in Japan and abroad starting in 2010, are spectacular installation work with  a group of disc-shaped works of various sizes displayed on the floor and the walls in different sizes ranging from a 'microcosm' cultured in a petri dish (laboratory culture dish) to a 'macrocosm'.
This new series of works "Variant" : Interface between Life and Death focuses on the 'mutation and diversity' that occurs in the process of life evolution and the artist attempts a new form of expressions.
The work is based on the 'Cultures' series, but the main focus is how to transform the image and texture from the conventional disc-like surface printed with woodblocks or copperplates on a quilt core. To this end, beading (the process of stitching glass beads into fabric one by one with a needle) and organza fabrics are employed to find unique expressions that give a special sense of majestic richness, transparency, jewel-like luminous massiveness, pulsating delicate rhythm, etc.
The theme of this year's work is strongly influenced by issues such as the C19P, Russia's invasion in Ukrainia, the global warming and environmental destruction in the expression of the work. On the other hand, the artist's beloved mother passed away in May after a long period of home care, and his experience of grief and loss, which was deeper than he could imagine, gave his a strong impetus to create new works.
We hope you will enjoy Koichi Kiyono's new series 'Variant: Interface of Life and Death', a solemn and quiet world of mourning for the dead and prayers for their repose.
November, 2023
Keiko Kurashina
Gallerist, 1010Art Gallery
〒231-0023 神奈川県横浜市中区山下町 214 Taoビル3階
tel: 045-680-4033, email:info@1010artplan.com, www.1010artgallery.com
▪みなとみらい線(東急東横線)元町中華街駅 Exit 1,2より徒歩6分
▪みなとみらい線(東急東横線)日本大通り駅 Exit 2,3より徒歩7分
▪JR京浜東北線 石川町駅北口より徒歩5分